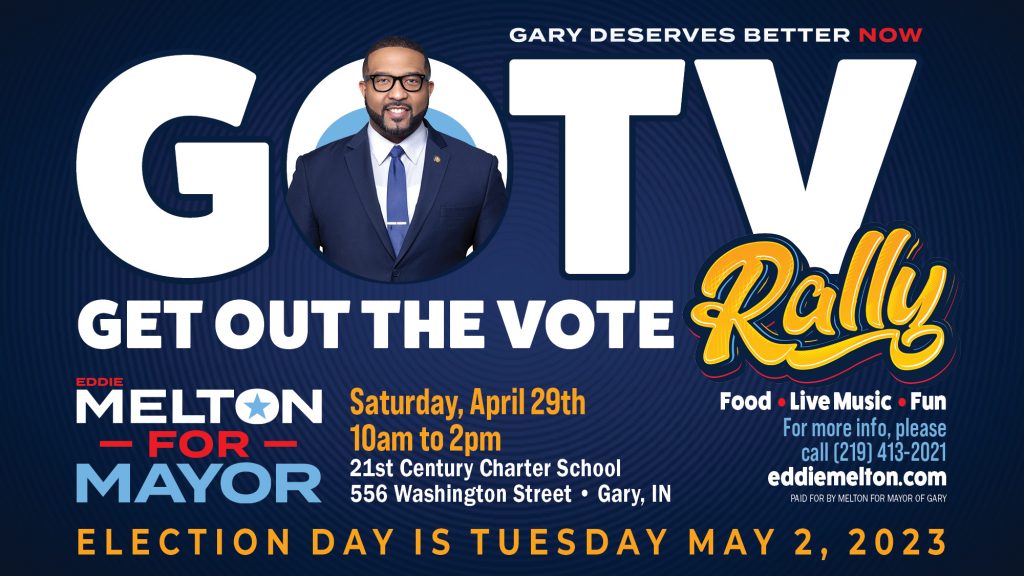 For Immediate Release
April 27, 2023
Sen. Eddie Melton hosting "Get Out the Vote Rally" in Gary Saturday
GARY – Mayoral candidate Eddie Melton is inviting the public to 21st Century Charter School in Downtown Gary for a "Get Out the Vote Rally" to recognize the end of early voting leading into the Primary Election on Tuesday.  
"We want the citizens of Gary to bring their family and friends for an opportunity to better understand the issues and commit to voting," said Melton. "We don't have four more years to wait for a leader and a plan to emerge. Gary must get out and vote now." 
During the rally, Melton will highlight the stakes of this election and encourage attendees to plan to vote and help their friends, family, and neighbors to do the same. He will invite Gary residents to join him for a one block march to the Gary Public Library, where attendees can vote in the final hours of early voting.
"Early voting is a great opportunity for Gary residents to check this off of their to-do list," said Melton. "It helps reduce long lines and wait time on Election Day, makes it easier for those who must return to work, and reduces the burden on election officials and staff." 
The rally is free to the public and will feature music, live performances, and food. The Get Out the Vote Rally is scheduled for 10 a.m. to 2 p.m. in the gymnasium of 21st Century Charter School located at 556 Washington St. in Gary, Ind. 
Early voting ends Saturday in Lake County. Election Day is Tuesday, May 2, 2023.   
For information about the campaign and Eddie's candidacy, visit EddieMelton.com.
For media availability with Sen. Melton or for questions about his campaign, contact Ami Reese at (312) 783-2239 or ami@eddiemelton.com. 
###